SinoSciences has organised professional training for hundreds of Chinese doctors, given by Israeli experts – Via ZOOM
While we are under "strict" quarantine, it seems that China has the virus well under control. At a conference organised by SinoSciences in front of hundreds of doctors and medical industry salespeople, Israeli experts trained participants in the use of medical devices made in Israel.

Under normal circumstances, the conference would have been held head-on in a completely different configuration. An Israeli delegation on a connecting trip en route to China. After disembarkation, the Chinese hosts will carefully plan all the small details – the parties will exchange business cards, gentle hospitality in the best tradition, guests will enter the conference room, light refreshments, tea, coffee and immediately after the event (as is the tradition in China), a dinner around a round table – there will be a conversation about the tradition common to both peoples, the constant consumption of yellow wine and a long night.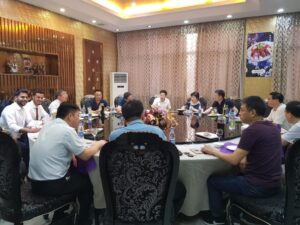 Experimental pleasure has disappeared from the world at this point (and who knows when it will return) but thanks to technology, we have been able to provide comprehensive training (about 3 hours, including full translation) to hundreds of professionals in the medical industry and train them in the use of medical devices made in Israel. These days it is obvious that meetings, thanks to the different video applications, serve the purpose, the message is transmitted, transactions are carried out and agreements are reached even if the meeting is not frontal.
On the other hand, the impression without mediation, the memory and experience of a frontal meeting, the handshake, the common meal and the receptions are missing. Especially when it comes to international meetings between people who do not speak the same language.

We can only hope that these days will pass from the world and that we will return to the normal days where the handshake is not accompanied by a raised eyebrow and where a common meal is not a crime accompanied by a punishment.