Especially on the Holocaust Day, a pride of Israeli technology in the  Chinese empire. One of Sinosciences' distribution products – RegenoGel osteoarthritis injection gel was successfully injected in Boao Yiling! This fact bringing great news to 120 million osteoarthritis patients in China!
On March 22, RegenoGel osteoarthritis injection gel, a new international licensed medical device, was successfully injected at Boao Yiling.
This product is the Boao Yiling Life Care Center, relying on the policy advantages of Hainan Free Trade Port and Boao Lecheng International Medical Tourism Pioneer Zone, and actively cooperate with well-known international manufacturers to negotiate and introduce an innovative licensed product that benefits domestic patients with osteoarthritis.
According to the clinical efficacy, RegenoGel (bone gel) has superior performance, can significantly relieve pain, improve the range of motion and improve the quality of life of patients, and has been well received by patients. It is reported that RegenoGel osteoarthritis injection gel has the characteristics of wide adaptability, safety and long-term effect. Currently, there is no product of the same variety on the market in China. The introduction of this product is like giving away charcoal to hundreds of millions of osteoarthritis patients in China, bringing them amazing news, and at the same time bringing innovative methods for treating osteoarthritis to domestic orthopedists.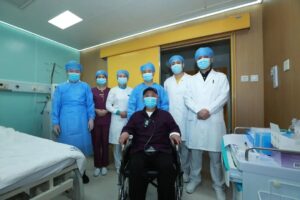 Ms. Xu, a patient from Beijing, said that bone and joint pain has been with her for many years. Whether it is walking up the stairs or squatting down, the knee joint is very uncomfortable. When she learned that Yi Ling and Sinoscience had introduced this internationally licensed medical device in January of this year, she was so excited that this product will relieve her pain. "From entering the operating room to now, the professional services and skills of the medical staff are very good, and the whole process is very easy and comfortable."
As we all know, Israel's life sciences, as one of the globally recognized leaders, has already had an important influence in the world. Regenogel (bone gel) is an osteoarthritis injection gel made from a variety of biological materials that naturally exist in the human body and using the original patented biological high technology of the Israeli company Procore.
Regenogel can maintain the treatment effect for at least 12 months in patients with moderate to severe osteoarthritis. Regenogel is also an effective treatment for long-term pain relief of osteoarthritis. Due to its unique material properties, it has high stability and long-lasting effects. It can absorb shock and dissipate joint load, while creating a microenvironment conducive to regeneration and healing.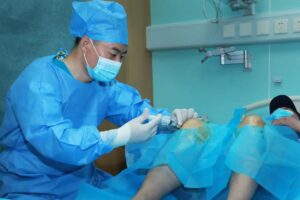 According to the relevant person in charge of Regenogel Products Company, the successful injection of this product in Lecheng Pioneer District and Boao Yiling is of great significance to patients with osteoarthritis. The product can be successfully introduced into China, in addition to taking advantage of the Hainan Free Trade Port and the Lecheng Pioneer Zone's "First try, first trial" policy advantages, but also because the company's vision is to achieve the same level of international advanced level in medical technology, equipment and medicine as the Lecheng Pioneer Zone. The goal coincides with each other. 
In the future, they will continue to strengthen cooperation with Boao Yiling Sinosciences and Sinopharm to eliminate pain for more patients suffering from osteoarthritis, accelerate the transformation of real-world data research in Lecheng, and optimize and upgrade China's osteoarthritis Existing treatment methods provide new treatment options for 120 million osteoarthritis patients in China.
The article below was written by the famous and advanced BOAO YILING medical center in Hainan province and translated by Sinosciences.
Find below a link the original article.
https://mp.weixin.qq.com/s/AY2m4V87gTFtcvppzZhw9g